Chicago Hauntings: The Grisly Story of the Luetgert Sausage Factory Murder
---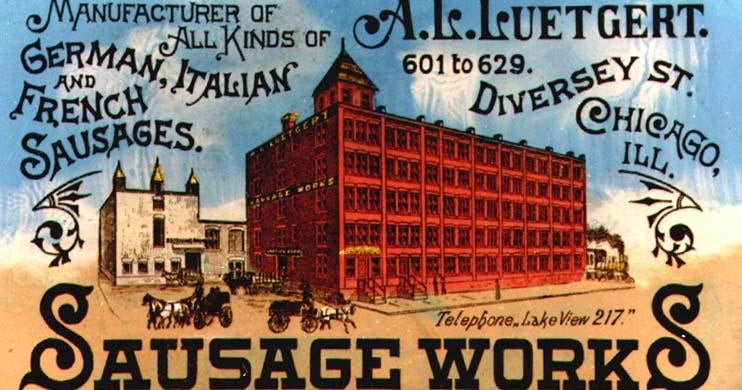 CHICAGO (CBS) —
"Oh Dunderbeck, oh Dunderbeck, how could you be so mean

"For ever inventing the sausage meat machine?"


"Now all the neighbors' cats and dogs will never be seen again

"Because they were reduced to sausage meat in the Dunderbeck machine."
Do you remember that old camp song, best known perhaps for a mid-century version by Tom Glazer & the Do-Re-Mi Children's Chorus? Didn't that always sound awfully bloody and macabre – especially for a children's song?
Well, there happens to be a gruesome Chicago murder case from 1897 that comes a little too close to the events of this song. The killer's name wasn't Dunderbeck – it was Luetgert, Adolph Louis Luetgert to be exact. And he didn't actually pound anyone into a sausage, although there is a widespread and persistent myth that he did.
But he was found guilty of murdering his wife and dissolving her body in a vat full of chemicals at his factory. And there were tales dating back to the turn of the last century that after this horrific crime – and after Luetgert was sentenced to prison and also died – an apparition haunted the old factory.
For this brand new edition to our Chicago Hauntings series, we were joined by Robert Loerzel – author of the 2003 book, "Alchemy of Bones: Chicago's Luetgert Murder Case of 1897".
Meet at 1735 W. Diversey Pkwy. today and you will find Regal Loft condominiums. In the 1890s, when the surrounding area was full of industry, this same building was the AL Luetgert sausage factory – which boasted of being a "maker of all kinds of German, Italian and French sausages".
Luetgert was born on December 27, 1845 in Gütersloh, Westphalia, in pre-unification Germany. He came to the United States as a young man – arriving in Chicago around the time of the Great Chicago Fire of 1871.
Luetgert said in his own life story – taken from testimony at his second murder trial – that he found work at a succession of leather tanneries and later opened a saloon on the corner of Clybourn and Webster Avenues .
Luetgert testified that his first wife died in 1877 and he married his second wife, Louisa Bicknese, the following year. He said he then opened a sausage business on North and Clybourn Avenues and then moved to a farm near Elgin for a while before returning and opening a new sausage factory on North Avenues and Sheffield.
He bought the property at Diversey Parkway and Hermitage Avenue in 1892 and built a new factory — depositing $30,000 for the land and $140,000 for the construction, Loerzel wrote.
"He's supposed to have invented his secret sausage-making recipes — I don't know, he's probably the one bragging about how good his sausage is," Loerzel said. "He claimed to have invented the summer sausage, but you know, I'm not so sure."
The story goes that Luetgert sold some of his sausage at the 1893 World's Fair. His operation was so successful that he became known as Chicago's Sausage King.
A Chicago Tribune article from October 19, 1897 provided a window into the deference Luetgert received from his neighbors:
"They gave him a wide berth when he went along the sidewalk with his Great Dane dogs panting after him. When he spoke to them, they took off their hats. He employed more men than anyone on nearly a mile around, and they looked to the neighborhood on his factory as the place of origin of all the money in circulation."
Adolph and Louisa lived in a house just south of the factory, which no longer exists, Loerzel said.
On May 1, 1897, Louisa disappeared.
'It sparked a huge sensational mystery that the newspapers were obsessed with – what happened to Mrs Luetgert? said Loerzel.
Adolph claimed Louisa had just run away and abandoned him and his family because they were struggling economically, Loerzel said. People all over Illinois and other states began calling Chicago police and local newspapers with reports of women they had spotted who they thought were Louisa Luetgert.
But soon after, Adolph Luetgert was charged with the murder of his wife.
"In the basement, they had these big tubs, which they used to dry sausages – and they weren't being used at the time. His factory had been temporarily closed due to bad economic conditions," he said. said Loerzel. "But he went to the basement, according to the police, and put his body in this tank filled with potash. He had asked his workers to prepare the solution in advance – which raises the question, he had did he intend to do so to get rid of the body?"
The motive that was determined for Luetgert to kill his wife was an ongoing mystery of the case, Loerzel said.
Luetgert was put on trial – in a sensational circus with coverage that filled the pages of Chicago newspapers and even caught the attention of the New York and London media.
Luetgert's first trial ended in a hung jury – the jurors could not decide whether he was guilty or not. A second trial took place, and this time Luetgert testified in his own defense.
Maybe it wasn't a good idea.
"The stories he told about how he was just trying to make soap that night in the basement really didn't sit well with the jury," Loerzel said.
On Feb. 9, 1898, Luetgert was found guilty and sentenced to life in prison — despite some wanting to see him hanged, Loerzel said. He was sent to Joliet State Prison, where he died of natural causes on July 7, 1899.
Back at the former Luetgert sausage factory, hauntings have been reported since the turn of the last century. In 1901, some Chicago police received a report that someone had seen a light moving inside the factory building, Loerzel said.
Two officers were dispatched to the factory and saw a light in the windows, and they entered with guns to investigate, according to a contemporary report in the Des Moines Daily News on Thursday, April 4, 1901:
"Immediately, a light flashed in front of them as if it were lightning. It seemed to pass from the first floor through the stairs to the basement. The officers followed, and when they entered the basement, they saw the light again. It was right where the famous middle vat was in which Mrs. Luetgert's body is believed to have disintegrated. Quinn rushed towards her, but she disappeared, and in less time than could be known, she was in a corner fifty. The officer approached her again, and this time was able to approach within a few feet of the apparition , which was quite distinctly that of a woman, as the officers rushed towards her. Her arms were thrown around a small barrel and her head poked through a window pane."
Loerzel admits he's skeptical of ghost stories.
"With a story like this, you want to get a first-hand report on it," he said.
In a 2012 column, Chicago Ghost Tours' Adam Selzer also claimed that Luetgert himself had apparently seen ghosts at his own factory and accused the police of "hiring" ghosts to scare him. Several decades later, a family who lived in the building in the 1970s reported stories of poltergeist activity in the basement, Selzer wrote.
Selzer wrote that he hadn't heard much about the ghosts of the current residents.
Meanwhile, Loerzel said, one of the reasons the Luetgert case was important beyond its sensational bloodiness was the fact that Luetgert was charged and brought to trial despite the absence of a body.
Police found bone fragments during a search of the factory basement. Later, George Amos Dorsey, an anthropologist at the Field Columbian Museum in Chicago – the predecessor of the Field Museum of Natural History – testified at Luetgert's trial. He said the fragments found were human bones and could indicate where they would fit on a human skeleton, according to Loerzel.
But some were skeptical of the scientists' evidence and wondered if the bones could just be parts of a pig that belonged to a sausage factory, Loerzel said.
As Loerzel points out in "Alchemy of Ghosts," the Luetgert case also caused a lot of public loathing about sausages. Many butchers said people just didn't want to buy sausages.
The long-standing urban legend was that Luetgert ground his wife into sausage – although he was never accused of doing so.
"But you can see how people would make that kind of leap in logic that he was a sausage maker, he had a sausage factory, his wife disappeared, he dissolved his body in there," he said. -he declares.
Also remember how HH Holmes' "murder castle" in Englewood was supposed to have burned down – when in fact it was demolished to make way for the post office that now stands there? There is a similar story of a fire that destroyed the Luetgert factory in 1902 – but that didn't happen either.
There was a fire at the Luetgert factory in 1904, but the building only gutted the interior, Loerzel wrote. The building was converted to condos in the 1990s.
Some of the ghost stories from the other bases are pretty dodgy, to say the least. Selzer wrote in 2012 that there were also some involving the former Flounders Bar & Grill at 2201 N. Clybourn Ave., where Luetgert once had a tavern. Selzer wrote that some ghost tour guides told a story that a butcher shop that sold "Louisa ties" was there, and others claim he murdered several other family members in the building, wrote Selzer. But there is no claim or historical evidence that Luetgert murdered any other family members – and again, he was never charged with turning his wife into a sausage.
More information on Loerzel's "The Alchemy of Bones" can be found here.